Overview of Review Resources and Processes
U.S. military activities in the CNMI are subject to federal laws, regulations and executive orders governing natural resources and the environment. Many key statutory and regulatory frameworks are summarized below. For additional information about environmental review of the Relocation, Divert, MIRC, MITT, and CJMT projects, please visit the DoD Activities page.
Procedural and substantive laws are listed and linked on this page. To support community understanding and engagement of the public notice and comment process established by the National Environmental Policy Act (NEPA), please see the Council on Environmental Quality's (CEQ) Citizen's Guide to NEPA for an overview and recommendations for writing NEPA comments here.
As visualized below and summarized by the National Capital Planning Commission, the NEPA and Section 106 of the National Historic Preservation Act (NHPA) processes share some common elements, and coordination among similar steps can help streamline the compliance process. NHPA regulations encourage federal agencies to consider their "Section 106 responsibilities as early as possible in the NEPA process, and plan their public participation, analysis, and review in such a way that can meet the purposes and requirements of both statutes in a timely and effective manner."  For more information, see NEPA and NHPA – A Handbook for Integrating NEPA and Section 106, which is a joint publication from the CEQ and the Advisory Council on Historic Preservation.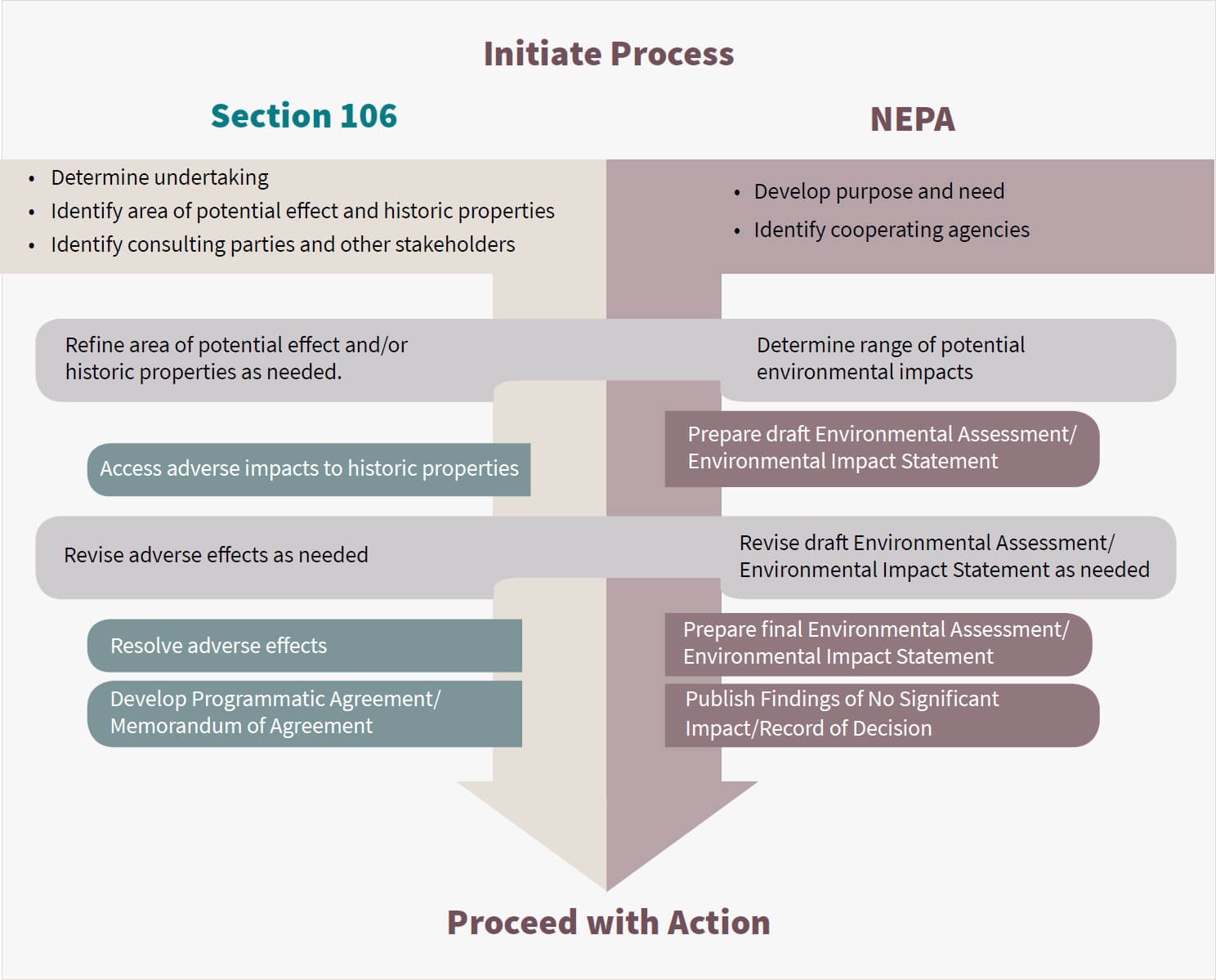 National Environmental Policy Act (NEPA) of 1969
NEPA requires federal agencies to identify, evaluate, and disclose to the public the environmental impacts of their proposed actions and reasonable alternatives thereto. U.S. military activities in the CNMI must undergo NEPA review, which normally takes the form of either an Environmental Assessment (EA) or a more comprehensive Environmental Impact Statement (EIS). Public input is an important part of the NEPA process; when preparing an EIS, federal agencies must allow comments during the initial scoping period, on a Draft EIS, and on a Final EIS. NEPA reviews prepared for the Relocation, Divert, MIRC, MITT, and CJMT projects are available here. Additional NEPA documents will be added if and as they are released.
National Historic Preservation Act (NHPA)
Section 106 of the NHPA requires federal agencies to determine the effects of their undertakings on historic and cultural resources. This is done through a consultation process involving the lead federal agency, the CNMI Historic Preservation Officer, and other agency stakeholders who may be invited. Members of the public must also be consulted. Section 106 consultations lead to a Memorandum of Agreement or Programmatic Agreement "resolving" potential effects on historic and cultural resources." Then, in a separate paragraph: "Section 110 of the NHPA includes special protections for historic sites which have been designated National Historic Landmarks (NHLs). It requires federal agencies to avoid harming NHLs "to the maximum extent possible." This requirement applies to the NHL on the northern portion of Tinian (among others).
EO 12114 Environmental Effect Abroad of Major Federal Actions
Executive Order 12114 requires federal agencies to take environmental considerations into account when making decisions on major federal actions that will take place in ocean waters beyond the jurisdiction of any nation and/or will affect the environment of a foreign nation. In so doing, it furthers the purposes of NEPA, the NHPA, and other environmental impact assessment requirements. EO 12114 helps ensure full environmental review for U.S. military actions occurring partially in the CNMI and partially in open ocean waters.
Endangered Species Act
The ESA protects threatened and endangered species and promotes their recovery. Among other things, it provides for identification and listing of threatened and endangered species; requires designation of "critical habitat"; prohibits "taking" of listed species; and bars federal agencies from jeopardizing listed species or destroying their critical habitat. In 2015, the United States Fish and Wildlife Service announced ESA protections for 23 plant and animal species throughout the Marianas.
The Marine Mammal Protection Act (MMPA) of 1972
The MMPA prohibits unauthorized "taking" (a legal term defined to include killing, capture, and/or harassment) of marine mammals. It is an important tool for addressing the impacts of military training activities at sea, including, most notably, the impacts of sonar on whales, dolphins, and porpoises. In fact, the MITT project was conceived as a regulatory vehicle for the U.S. military to obtain "take" authorization for military training and testing activities in CNMI (and surrounding) waters.
Migratory Bird Treaty Act
The MBTA requires a permit to possess, capture, or kill any of more than 1,000 migratory bird species. These protections extend to feathers, eggs, and nests. In recent years there has been significant controversy regarding the penalty provisions of the Act.
Coastal Zone Management Act (CZMA)
Among other things, the CZMA requires that federal agency actions be determined consistent "to the maximum extent practicable" with the enforceable policies of a state coastal management program. This is generally referred to as a "consistency determination." In the CNMI, consistency determinations are overseen by the Bureau of Environmental and Coastal Quality, Division of Coastal Resources Management. Materials related to consistency determinations for the Relocation, Divert, MIRC, MITT, and CJMT projects are available here. Additional materials will be added if and as they are released.
Clean Air Act
The Clean Air Act is the primary federal statute addressing air pollution. As relevant to U.S. military activities in the CNMI, the Act provides for ambient air quality standards, limits on hazardous air pollutants, and a process for determining whether federal actions "conform" to applicable air quality plans.
Clean Water Act
The Clean Air Act is the primary federal statute addressing air pollution. As relevant to U.S. military activities in the CNMI, the Act provides for water quality standards and permits for point and non-point source discharges. It also governs discharge of dredge and fill material in waters of the United States. In addition, the Act and its implementing regulations address drinking water protection and wastewater treatment.
EO 13089 Coral Reef Protection Act
Executive Order 13089 directs federal research on – and development of mitigations measures for – impacts on coral reef habitats. Nearly all U.S. military training projects in the CNMI involve components proposed to be carried out in coral reef habitats.
EO 13547 Stewardship of the Ocean, Our Coasts, and the Great Lakes
Executive Order 13547 addresses federal ocean policy and stewardship. Among other things, it direct federal agencies to implement certain ocean stewardship principles and undertake spatial planning efforts for ocean environments.
We want your feedback
Click here to enter your comments, thoughts, or questions about any of these projects or the overall U.S. military program in CNMI.
Stay up to date
Click here to view the latest news about U.S. military activities in CNMI, including publication of environmental documents, additional opportunities for feedback or to have questions answered, public meetings, etc.